Nigerian Curiosity - A Blog Worth Checking Out
Chronicled by

Afronuts

@ Wednesday, December 03, 2008
When I clicked the link, I did it out of curiosity; curiosity as to the name of the blog in question. And indeed I wasn't disappointed at what I saw. That instant I knew I had to review this blog.
I was surprised to even discover that the blog was managed by
Solomonsydelle
.
Never did I envision that she had such a site that was rich in social commentary on Nigerian issues. The site in question is
Nigerian Curiosity
.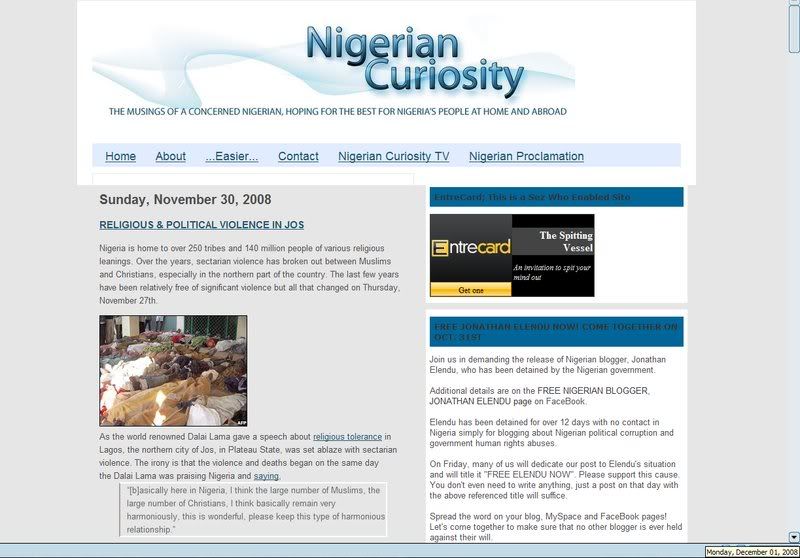 The blog has the potential to impact beyond blogosphere; I'm talking of it becoming a point of reference in social circles. Apart from its layout simplicity and arresting masthead, Nigerian Curiosity is a blog that is richly informative on topical issues on Nigeria. This is a strong aspect of the blog because it's a focused one and makes clear to the reader its objective.
The blog carries with it an air of solidarity in its various content; we see the blog's part in the protest for the release of a detained Nigerian blogger, Jonathan Elendu. There is also the seriousness of safeguarding the blog's originality in terms of guarding against plagiarism. I call this blog a 'no-nonsense blog' because of its downright tone of being dead serious. I have seen quite very few blogs that carry such tags that state "This work is licensed under a Creative Commons Attribution-No Derivative Works 3.0 United States License."
It probably means this is a blog that could hit you beyond the internet if you tried any hanky panky plagiarism.
For any Nigerian based out of the country who has lost touch with the happenings in the country, this blog is a good place to visit to update yourself on the goings-on in Nigeria. The information is so accurate and detailed that I'm so convinced Solomonsydelle must either be an experienced journalist or a good researcher who is in someway connected to sources that supply her with such rich info.
Nigerian Curiosity
is an outstanding blog and presently ranks Number 30 on Afrigator's list of top African blogs. Going through the blog I also discovered that it has a rapid updating record; the delay between each post is very minimal. This indicates that the blog always has fresh information. It's either that Solomonsydelle blogs for a living or just has that unique habit of keeping up to date with the latest info.
The blog is so rich that it qualifies as a reference material for any person or student doing a research or term paper on any topic that has to do with Nigeria.
I came across this fascinating blog last week and just couldn't resist doing a review about it. It might be seen as a collection of musings by the blog owner but it's equally a good example of what a social commentary blog should look like.
Rating for Nigerian Curiosity
I'm digging it!