'Amala' Kills Family of 5
Chronicled by

Afronuts

@ Wednesday, August 29, 2012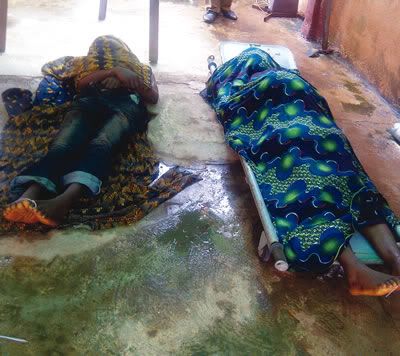 Two of the victims
It's sad stories like this that eventually get caught up by panic mongers who will start claiming that it has been recently discovered that 'Amala' (yam flour) is killing people…or that Boko Haram has started poisoning Amala and other 'swallow' meals to get at people in the South.
Meanwhile, this could have been the handiwork of some diabolic person who despised this family or yet just a case of fatal food poisoning.
The incident happened in a village in Ondo State after the father, Michael Onoja 56, returned from his farm and instructed his daughter, Patience to prepare Amala (yam flour) for the family to eat.
The first person to start showing signs of stomach pain and eventually giving up the ghost was Joy, Onoja's eight year old granddaughter.
It was not till the following day that the rest of the family started having the same stomach pains and had to be rushed to the hospital. They all died one after the other; father, mother, children and grandchild.
What a tragedy.