MTN Ultimate Wonder or Wayo?
Chronicled by

Afronuts

@ Thursday, August 23, 2012
If you happen to have been in touch with programming in Nigerian TV stations, then you might have seen the numerous TV commercials where all manner of promos offering freebies pervade the screens at almost any commercial break. Its so rampant that promos are fast becoming cliches on TV today.
So, in order to get the attention of viewers which seems to be dying out, the advertising brands are making efforts to sound refreshing in the nature of their promo campaigns.
Among the telecom giants; Airtel, Globacom, MTN and Etisalat, its now evident that the competition is hot as they gone into a frenzy of dashing their customers freebies in form of free airtime once you load a certain amount of airtime. (Wait a minute...did I mention Glo? Scratch that! They are not giving free credit!) The craze was actually preempted by Etisalat who gave so much freebies that subscribers (including yours truly) rushed to acquire their lines.
So it was to my utter flabbergastment when I saw this insane MTN promo called 'MTN Ultimate Wonder' which is currently running on air - they claim first prize is an aircraft!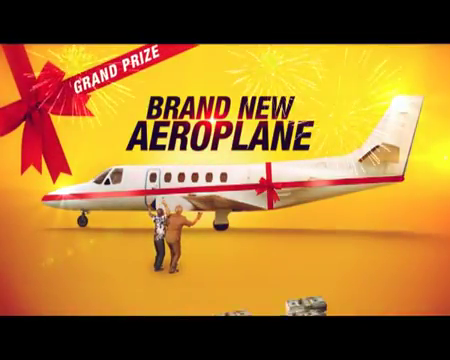 Either this is some intelligent 419 move or MTN is just playing smart with Nigerians. With all the available brand of cool rides that one can parade as grand prizes, these guys called the bluff and went on to offer an aircraft! Wetin person wan take aircraft do? And we see On-Air Celebrity/Comedian Yaw alongside some unknown dude charting the course and telling us how cool this offer is...yeah right! Though there is the claim that you can take the money of the cost of the aircraft rather than collect the aircraft, but really, that is a lot of money and from what I've seen from the business scenario in Naija, there's no such thing as 'free money'...they've gotta take something back.
But seriously, how many Nigerians will fall 'mugu' to this promo? I'm even wondering how this commercial managed to pass through APCON and other vetting bodies to make it to the screen. I know how these vetting bodies seriously scrutinize Ads before they get aired.
Anyhow...this Ultimate
Wonder
Wayo is just too much to stomach; Ads may have tricked us into patronizing a lot of brands over time but this one is just too much to stomach. And many viewers can clearly see the deceit under the lining.
I love the comment someone made over the commercial on youtube:
"All lies! MTN we are not fools. Use all this money to improve your network!"
MTN, please come up with a more believable promo that can REALLY offer what is being promised; take a cue from etisalat, a network that's gives away a lot of believable freebies!