1 Year Old Robbery Victim Needs Your Help
Chronicled by

Afronuts

@ Thursday, September 13, 2012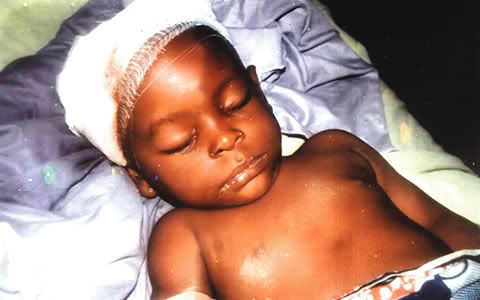 I was moved when I heard of one year old Taiwo Lawal's story. The little boy got hit by a stray bullet from armed robbers who invaded a GT Bank at Gbagada on Sunday September 9th. He was hit in the head while playing in his Dad's compound.
I have a
one year old (A.Y)
and cannot bear the idea of anything of such happening to him. The fact that Taiwo's just a year old is enough to break one's heart; a little innocent boy put in a painful state by a bunch of idiots who took it up to rob a bank.
That's why I'm also putting up this plea for Taiwo; I don't know him, never met his family, nor was ever asked to do this. I'm just doing it because I know what it feels to be a parent with a child in pains.
Taiwo is on admission in LUTH and needs N500,000 f
or treatment. If y
ou're able to help or get help in any way, please contact his Dad on
08
028416683 or his Aunt on
0
8121118895. His
Aunt's Account details are as follows: Lawal Mariam Oyenike. GTBank. Acct no: 2087293311590.
God bless you as you help.